Are you wondering about maid service? Each week, many of us face the recurring job of doing basic household cleaning tasks. While some jobs require daily action to keep up – things like washing dirty dishes, sweeping floors, and picking up items left in rooms around the house – other jobs seem able to be put off for a little bit.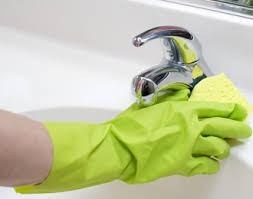 Every week or two it becomes apparent if no one takes care of these tasks. Perhaps we are able to make a quick meal and stick dishes in a dishwasher, but no one really cleans the stove or counter tops thoroughly. Or how about bathrooms? Everyone is quickly in and out, but nobody actually cleans up more than quick basics behind themselves. Sooner or later, it is embarrassing at best and unhealthy at worst!
Enter the blessed maid service!!! Though today they may be called house cleaners, or even housekeepers if they are in the home more than one day a week, this is the rescue team that many dream will arrive.
Great Maid Service Teams
A professional team of cleaners will show up consistently, bearing all the supplies (our versions are non-toxic if possible) and bringing the best equipment like vacuums and microfiber cloths. Each trained team member should know what area is their responsibility and get right to work.
For our Sparrow Crews, this is an exciting time. To start on a familiar home and move systematically through each area until it is clean is actually satisfying and rewarding work.
Kitchen cleaners make sure that counters and small appliances are wiped clean. Refrigerator exteriors and tops are wiped. Microwaves are cleaned inside and out. And the top and front of ranges are cleaned each visit. Sinks are polished. And floors are mopped.
Bathrooms are washed and sanitized – each fixture and shower and vanity/sink. Mirrors are cleaned, chrome is shined. By the time this is finished, there is a sparkle that welcomes any guest and cheers the home residents at the end of a busy day.
All areas are dusted – high for cobwebs, and lower for dust on furniture and baseboards. While deep cleaning may call for washing trim and baseboards, this maid service visit just keeps in good shape areas that have already been brought up to a high standard. At the end, all floors are vacuumed and possibly damp mopped (carpet or wood or tile, it depends.)
Special Needs
So what makes it hard or easy? How many pets are there in a house? How about clutter? While collections and tchotchkes may make it feel familiar and homey, they also mean cleaning just takes longer. Most customers realize this and are not surprised that their home requires extra upkeep.
And the benefits? What a long list this can be…but the main thing is the relief from having chores done, being free to entertain or just go out and pursue your current interest in time off from work with NO GUILT nagging in the back of your mind about a messy house.
Call the Blue Sparrow Cleaning dream team. We are all around the Asheville and surrounding areas. What have you got to lose?